As we all know, change is the only constant in life. With many that are unanticipated; the results of the US election, technological advances, shifts in weather patterns and, also, the process of aging, are all changes permeating our lives. If there is one thing that anyone can embrace as we experience life and it's inevitable changes is to practice the Feldenkrais Method, and taking a class called Awareness Through Movement.
Feldenkrais lessons may seem counterintuitive to those who prefer a more vigorous action with a full sense of urgency. But Feldenkrais lessons are, paradoxically, one of the more accessible ways to learn how to fully inhabit one's life. Perhaps lying down could be the very thing you need in order to stand up for yourself in an ever evolving world. With the Feldenkrais Method, you can develop the capacity to respond to change in one's personal circumstances and/or surroundings with skill, rather than defaulting to a more limited, stress-influenced habit of a fight, flight, freeze, that may offer a short reprieve with little to no empowering change over time.
Many people stumble across the Feldenkrais Method when they incur some sort of injury that causes chronic pain, but this modality also helps those without pressing concerns discover how much they can trust themselves and their bones. Learning to rely more on the skeleton for daily movement, even the conventional act of getting out of bed, frees up energy and vitality, the little bit of willpower needed to go through life. As we live in a culture of "work hard, play hard", it can be quite a surprise to learn that less effort often leads to better results and that one can move quickly without adding unnecessary tension, allowing us to preserve more energy to use on the things that matter most.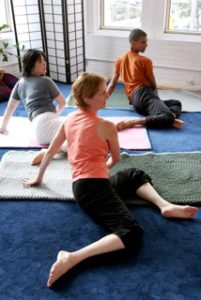 Moshe Feldenkrais, born in 1904 in what is now Ukraine, grew up amidst the First World War. He left home in 1918 with only a back-sack, boots, and a pistol. For over six months he walked across battle zones in Europe with a few other young kids to Palestine. He learned Jujitsu so he could defend himself against attackers. He earned his Judo black belt from Judo founder Jigoro Kano after experiencing a severe injury to his left knee from a soccer mishap. In 1940, he escaped the Nazi invasion of France, which was a traumatic time that triggered his knee injury. These and other life-altering turns of events in his history influenced the development of his somatic education. Dr. Feldenkrais knew deep within in bones the importance of being able to reverse one's movement when your life depends on it. He skillfully and subtly translated reversibility into his method of accessible movement lessons. Learning how to sit down and get up from a chair without having to use arms, or clenching leg muscles to evenly distribute effort across the skeleton to make movement lighter and easier, is the very lessons taught in the Feldenkrais Method.
The Feldenkrais Method offers a gateway to our emotions, sensation's and thoughts. It is an opportunity to check in with ourselves and get acquainted with our habits of movement. In doing so we discover more resilience. As Dr. Feldenkrais once said,  "what I'm after isn't flexible bodies, but flexible brains." Feldenkrais lessons cultivate that flexibility, more so in moments of challenge. For those of us whose physical lives are not on the line, resilience can help us adapt more readily to change.
The beauty of the Feldenkrais Method is that, as an educational modality, it doesn't try to fix, heal or cure anything or, even, solve problems. It helps people discover how to maximize their physical, expressive and creative potential by using themselves and their attention more astutely so as not waste effort or subconsciously sabotage themselves. As Moshe Feldenkrais said,
 "The object of this learning is to remove outside authority from your inner life."
With so much at stake in the world, if we all did a little bit of Feldenkrais, it could go a long way.