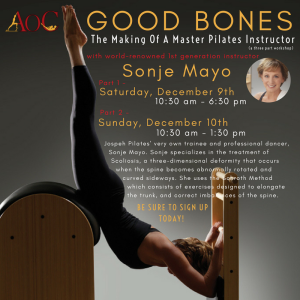 Good Bones, Parts 1 & 2, instructed by Jospeh Pilates' very own trainee and professional dancer, Sonje Mayo. Sonje specializes in the treatment of Scoliosis, a three-dimensional deformity that occurs when the spine becomes abnormally rotated and curved sideways. She uses the Schroth Method which consists of exercises designed to elongate the trunk, and correct imbalances of the spine. In developing the inner muscles of the rib cage, changes begin to take form in the shape of the upper trunk, which over time corrects any spinal abnormalities. In practice, these specific exercises aim to straighten, centralize, and de-rotate the spine with corrective breathing techniques.
Part 1 – 
Date: December 9th
Time:10:30 am – 6:30 pm
Cost: Good Bones part 1, $280
Part 2 – 
Date: December 10th
Time:10:30 am – 1:30 pm
Cost: Good Bones part 2, $150
A Day with Joe: A Man & A Method, Part 3. This workshop instructed by Cathy Strack and Elaine Ewing, will offer a rare chance to learn details about Joseph Pilates- who he was as a man and his method as he intended. Deepen your knowledge and understanding and inspire your teaching! Experience and learn many well-known exercises in the Pilates Method as Joseph Pilates originally created and taught them. Discover that quite a few exercises and transitions were originally done differently than taught by many classical people today! Elaine will teach historical exercises and transitions on a variety of apparatus in the studio, then give time to participants to practice with each other doing and teaching the exercises. We will discuss how these historical moves can fit into our own practice, how and when we can re-incorporate them back into the system when teaching our clients "pilates", and gain an understanding of how and why the exercises have been changed over time.
Part 3 –
Date: December 10th
Time: 2:00 – 6:00 pm
Cost: A Day with Joe, $250
*Special Pricing*
Workshop 1 & 2, $395 (savings of $35)
Workshop 1 & 2 before October 15th (early-bird), $354 (savings of $76)
All 3 workshops, $645 (savings of $35)
All 3 before October 15th (early-bird special), $569! (savings of $111)
We will celebrate Joseph Pilates birthday during this weekend event.